Have you read my article about my Harry Potter Experience at a boarding school? At the end of that post, I wrote: "By the time we arrived at the school, it was tea time. The first day of school was like another Hogwarts experience which I will share in a future blog post." It has taken me a while to fulfill my promise. Here it is, better late than never- memories of my first day at Goethals Memorial School!
Since I am relying on memory to write this story below, the exact times of the daily schedule may not be precise. If you happen to be a Goethalite reading this and your memory tells you differently, please forgive me.
Arrival At School
Goethals had its own private siding where the Toy Train came to a stop. We got off the train with our luggage and laid them in rows for transportation by the school vans to the school above. No transportation for us boys as we had to trek up the hilly road to the school grounds.
The first order of business was afternoon tea. Don't for one moment imagine this as a luxurious English tea time.
Time For Tea
We were served two slices of white bread with a pat of hard butter on a metal plate. tea was served in pots that we poured into our metal mugs. My memory of the tea was it was sweet and hot and the butter was hard to spread on the slice of bread without poking holes in it.
Following tea time, all the boys were shepherded by a staff member to their respective box rooms. We were shown our individual lockers where our personal belongings will be stored.
Our luggage was waiting for us laid out on the playing field in front of the box room building. It was mayhem everywhere because all the boys were trying to find their belongings for loading into their lockers.
Once we were unpacked, it was off to the showers for a well-needed cleanup following our two-day journey to school.
First-Time Meet & Greet
After freshening up it was time for a social break in the study hall. This was a one-time thing. This hall would be the place where we went to do our homework and silent study before dinner.
At about 5 pm it was off to the study hall. Not to study, but to socialize with the other boys. It was at this time I started to feel a tad homesick. Fortunately, I had some friends from home to talk to that compensated for being away.
Some of the boys shared the snacks they brought from home. A great deal of chatter ensued when everyone wanted to tell their stories of the three months of winter break.
Finally, Dinner Time
All the students were directed to line up on the playing field and grouped according to their classes. We were marched to the dining hall. It was 6:30 pm and already dark.
How palatable would dinner be? What delights were awaiting us from the kitchen? The meal served at tea time was more like a snack. This meant a boatload of hungry boys ready for a decent meal.
We could have guessed, it was curry, dal, and rice. This was the worst curry I had ever tasted. What was that mystery meat? If it was meat at all? As I came to find out, the meals were not that great. inevitably most of us were still hungry at the end of dinner.
Feast Day Holidays were the exception. The quality and taste of the meals were far better. More of this is in a future post.
The Dorm Rooms
I wish our dorm rooms were similar to the ones in Hogwarts. There, a small group of students shared semi-private rooms. Not so in Goethals! This picture, courtesy of Penjo Chimmi, is of the senior dorm room that brings back happy memories, believe it or not!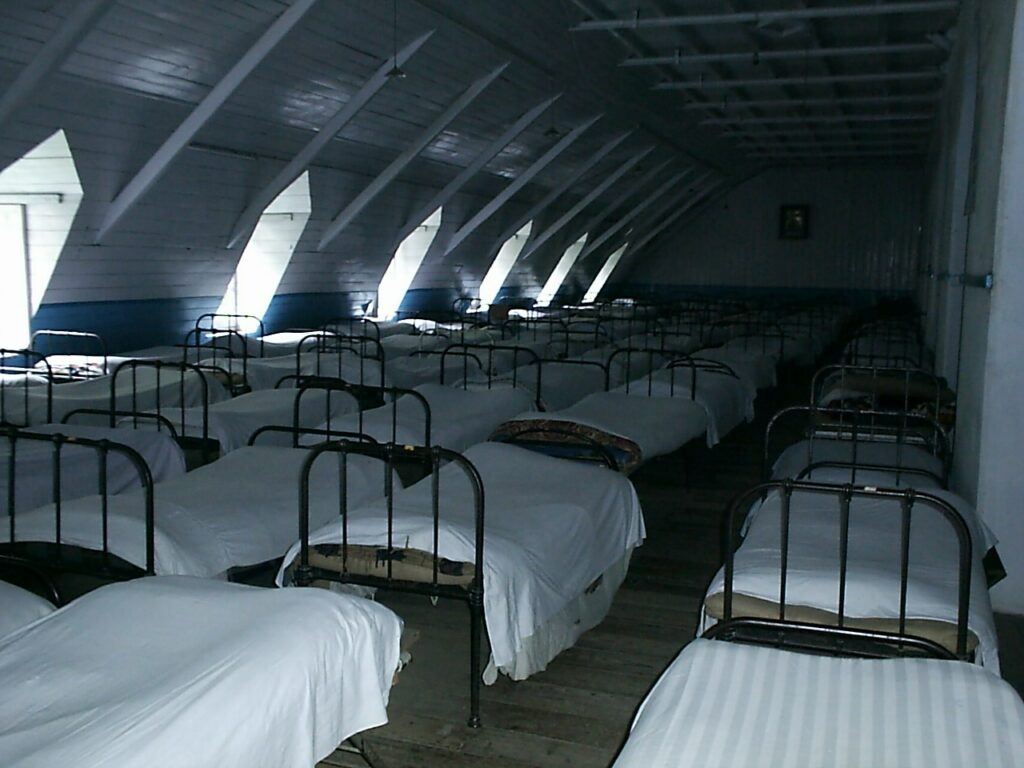 This was a major change in our lives. Can you imagine a room filled with a matrix of beds, stacked close to each other? This was the height of communal living.
Daily Schedule
Our normal daily schedule began the next day. No more time to be homesick as the business of attending classes and starting a new routine was in our future.
The wake-up time was 5:45 am. We had to make our own beds. Then it was off to the box rooms to wash up and dress for Chapel at 6:30 am. Only the Catholic students had to attend Mass in the Chapel. The majority of students were non-Catholics so they stayed in the Study Hall. Conveniently, the Chapel was adjacent to the study hall.
We wore the school uniform of white shirts, grey flannel trousers, a blue short-sleeved sweater with the Goethals embroidered badge stitched on, and black leather shoes. For formal occasions, we wore a blue blazer with a badge embroidered on it instead of a blue sweater.
After Mass, we went to the dining hall for breakfast at 7 am. This consisted of porridge and tea. At the end of breakfast, we all had a little bit of free time followed by a stint of study time before class. Some of us used this time to catch up with homework not completed in the prior evening in the study hall.
Around 8:30 am, we were given about 15 minutes to go to the bathroom before heading for class. We lined up in front of our respective classrooms for dress inspection.
Morning classes ran from 9:00 am to 11:30 am when we headed to the dining hall for lunch at 12 noon. Afternoon classes ran from 1 pm – 2:30 pm. Then off to tea.
Here endeth a full day of my first day of experience at Goethals.
Goethals Dreaming
When I close my eyes and immerse myself within the grounds of Goethals, I can see the school buildings, the classrooms, the study hall, the chapel, and the playing fields as it was when I first saw them over 60 years ago.
The mist rising from the river in the valley below surrounds me and hides the rays from the sun. I can hear the voices of a myriad of boys at play when classes are over. Faces of friends are everywhere.
Entering as a 5th grader my most formative years will be spent away from home in a boarding school. How did this influence my life?
A good friend of mine John Kingsley created a website that provides more details based on essays from many of the students who attended Goethals during the same time I did. You can check this out at his Goethals Site.
It is going to be fun to write about life in Goethals in a bygone era and how it influenced my life to the present day 60 years later. How would you like to read all about it?
Check out the next post coming up.